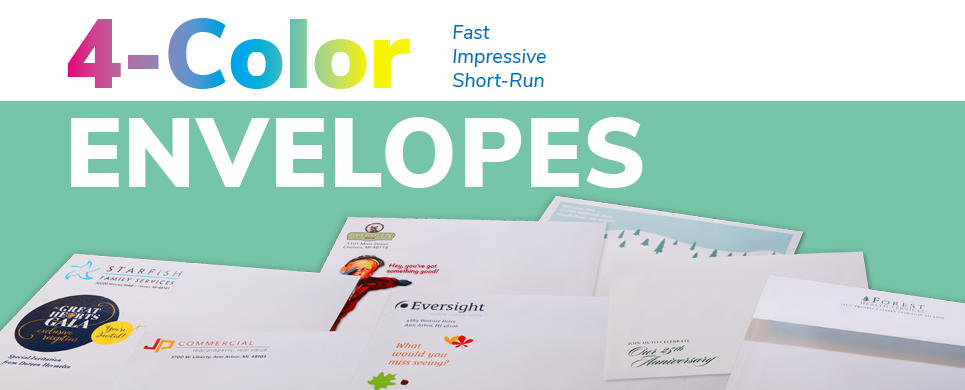 DID YOU KNOW WE OFFER SHORT-RUN, FULL-COLOR ENVELOPES?
If your direct mail message is tucked away inside an envelope, your first goal should be getting that envelope opened.
One way to increase open rates is to print your envelopes in full color. As reported by the Data & Marketing Association, attention-getting graphics are key to marketing's success. And full-color printing captures attention.

Traditionally, full-color envelopes are printed on offset sheets that are converted into envelopes. This is cost effective for long runs, but not for short runs. Plus, it takes time.
Today, with Print-Tech's digital printing capabilities on state-of-the-art Canon equipment, we can produce full-color envelopes for short runs, like 100, 250 or 500. It's fast, and it's affordable. Plus, due to a process developed internally, our full-color envelopes have a level of print quality that other manufacturers can't match. It's truly offset-level quality.
Envelopes in Many Styles & Sizes
Whether your mailing campaign is for business, event invitations, or marketing efforts, personalize the envelopes to maximize their effectiveness. Use colorful copy and graphics to enhance your open rates with targeted messages that entice people to see what's inside.
Think about the importance of your remit envelopes. It's critical that potential donors spend enough time reading these solicitation requests so that they give to your cause in the moment. And by printing the remits in full-color, they will be noticed, whether they're mailed, left on tables during events, bound into publications, or handed to donors.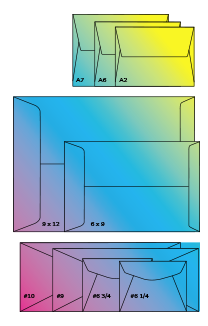 Sizes Currently in Stock at Print-Tech
A2       5.75 x 4.375
A6       6.75 x 4.75
A7       7.25 x 5.25
6 x 9 booklet (opens along long edge) or catalog (opens along short edge)
9 x 12 booklet (opens along long edge) or catalog (opens along short edge)
#9 window or no window
#10 window or no window
6 ¼ Remit
6 ¾ Remit
#9 Remit
We can print a short run of personalized, full-color envelopes in any of these sizes and styles. Most importantly, they'll be printed in consistent, outstanding quality.
So if enhancing your mail campaign is a goal, then full-color envelopes will definitely help you up your game.
---

Contact your Print-Tech Representative 
to start your next project.
Call us or request an estimate today!