Use Every Door Direct Mail® for Targeted Mailings
Need to market your products and services to a specific geographic location? You're in luck! There's an effective and affordable USPS tool custom-made for this purpose. It's called Every Door Direct Mail® – or simply EDDM®.
EDDM® is a low-cost way to send a mailing to a particular geographic area. You can say good-bye to the hassle of mailing lists, because with EDDM®, you select a certain area by ZIP code(s) and carrier route(s), and every address within that area will get your mailing.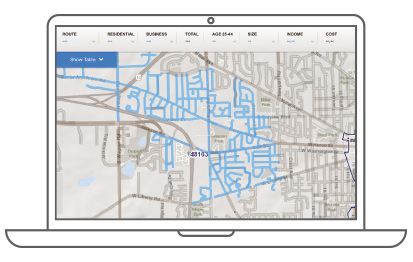 This popular USPS program lets you send as few as 200 mail pieces at a time to residents and businesses – or just residents – within a defined geographic zone. You can gain more insight into a specific zone by searching on age, income, or household size, although you cannot target by these factors.
Your EDDM® mail pieces are addressed to "Postal Customer" and will be delivered to every door within the area you define. So you pay only for postage and printing – not for addresses and names. Your EDDM® mail pieces must be classified by the USPS as a "flat," making self-mailers, newsletters, and large postcards ideal.
A EDDM® "flat" is a large envelope, magazine or newsletter. It must be flexible enough to go through the USPS automated equipment, and it must also conform to these size requirements:
It must have one dimension that's greater than 6 1/8" high OR 10 ½" long OR ¼" thick.
It cannot be more than 12" high x 15" long x ¾" thick.
This mailing program is ideal for many businesses and organizations that attract customers from a targeted area:
Professional service firms like landscapers, carpet cleaners, dog-walkers, and housecleaners;
Day-care providers, schools, churches, and youth sports programs;
Health clubs, dance studios, and district libraries;
Dentists, orthodontists, physicians, chiropractors, and other medical providers;
Colleges and universities that cater to commuters;
Restaurants, coffee shops, and local caterers;
Hair salons and nail salons;
Realtors;
Automotive shops.
5 Major Benefits of EDDM® with Print-Tech
If your customer base comes from a defined geographic area, Every Door Direct Mail® is an excellent direct marketing technique. Consider these 5 benefits:
 Eliminates the hassles of a mailing list. Forget about building, buying, or renting a list of names and addresses.
100% saturation of carrier routes within your targeted ZIP Codes.
Saves you money. No mailing list, no addressing.
Postage as low as 17¢ per piece.
We make it easy for you! Print-Tech handles the printing, processing, and delivery to the post office.
Print-Tech has years of experience in helping customers use this marketing tool, and we can advise you on optimum size, design, and format. We will work with you to target your ideal customers.   
---

Contact your Print-Tech Representative 
to start your next project.
Call us or request an estimate today!