Our 3 New Digital Presses = Spectacular Color and More!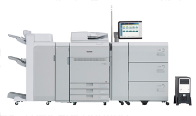 Growth in the printing industry is not just about adding equipment. It's as much about investing in specific equipment that brings better results for customers.
As the calendar was about to turn from 2016 to 2017, we did just that: in mid-December, Print-Tech installed 3 new Canon color presses that offer you multiple benefits and new capabilities.
For those of you interested in the make-and-model of presses, here they are: an imagePRESS C750 and two imagePRESS C10000VPs - but it's what they can do that will knock your socks off.

These are state-of-the-art digital color production presses. They are printing workhorses that combine speed and efficiency. Finishing operations can be done inline. And you won't believe the color quality. We are now able to offer the speed and price advantages of toner based digital imaging, with no sacrifice in color quality.
Advantages of the New C750 Press
This Canon press has production speeds of 75 pages per minute and offers the following new features:

It prints the popular six-page format digitally, so now you can get short runs of a six-panel brochure.
It prints envelopes. With this press, you can get variable data envelopes printed digitally and in color in some common envelope sizes:
#10 business

#9 business

A6 - A10

6" x 9" - 10" x 13" booklet & catalog
Advantages of the New C10000 Presses
The C10000 is one of the newest presses in Canon's line of digital color printers, and the color quality is spectacular. In fact, it has won numerous industry awards since its launch. It offers several benefits:

Exceptional print quality with color consistency nearly ide

ntical to that of offset

printing.
The ability to print on textured stocks as well as cover stocks up to 130# cover.  Supported stocks include vellum, film and synthetics. You can now choose from a much broader range of paper and synthetic stocks.

With these new acquisitions, we continue to offer you the highest quality available in toner-based, digital color printing. You're invited to come by for a look at what these new presses can do for you.
Just remember: offset quality on a digital press - it's here! We'd love to tell you more.